DUCC National Gathering
May 12-15, 2020 Ottawa, ON
Plan to join your diaconal colleagues in Ottawa for rich opportunities to network, learn together and to be strengthened and inspired in the work for justice and peace.
Accommodation is at the downtown Holiday Inn at 402 Queen Street, at Queen and Bay.
Meeting space will be a 10 minute walk from the hotel at St. Andrew's Presbyterian Church, 82 Kent Street, at Kent and Wellington.  Transportation will be available as needed.
Theme sessions will focus on power, politics and being rooted in faith.  Site visits and workshops are planned for one of the afternoons.  Another afternoon is set aside for unique Ottawa experiences: tulip gardens, museums, National Gallery, city tours, hiking and much more.
Register now by making a deposit of $50.  The remainder of your registration is due on March 27, at which time you must pay the remaining $475.  Late registration will cost you $100 more.  Registration includes a contribution to the travel pool.  For those wishing a single room, an additional $270 will be charged.
Click on the "Registration" link to the right.
Bursary assistance is available through the Kaufman Renewal Fund.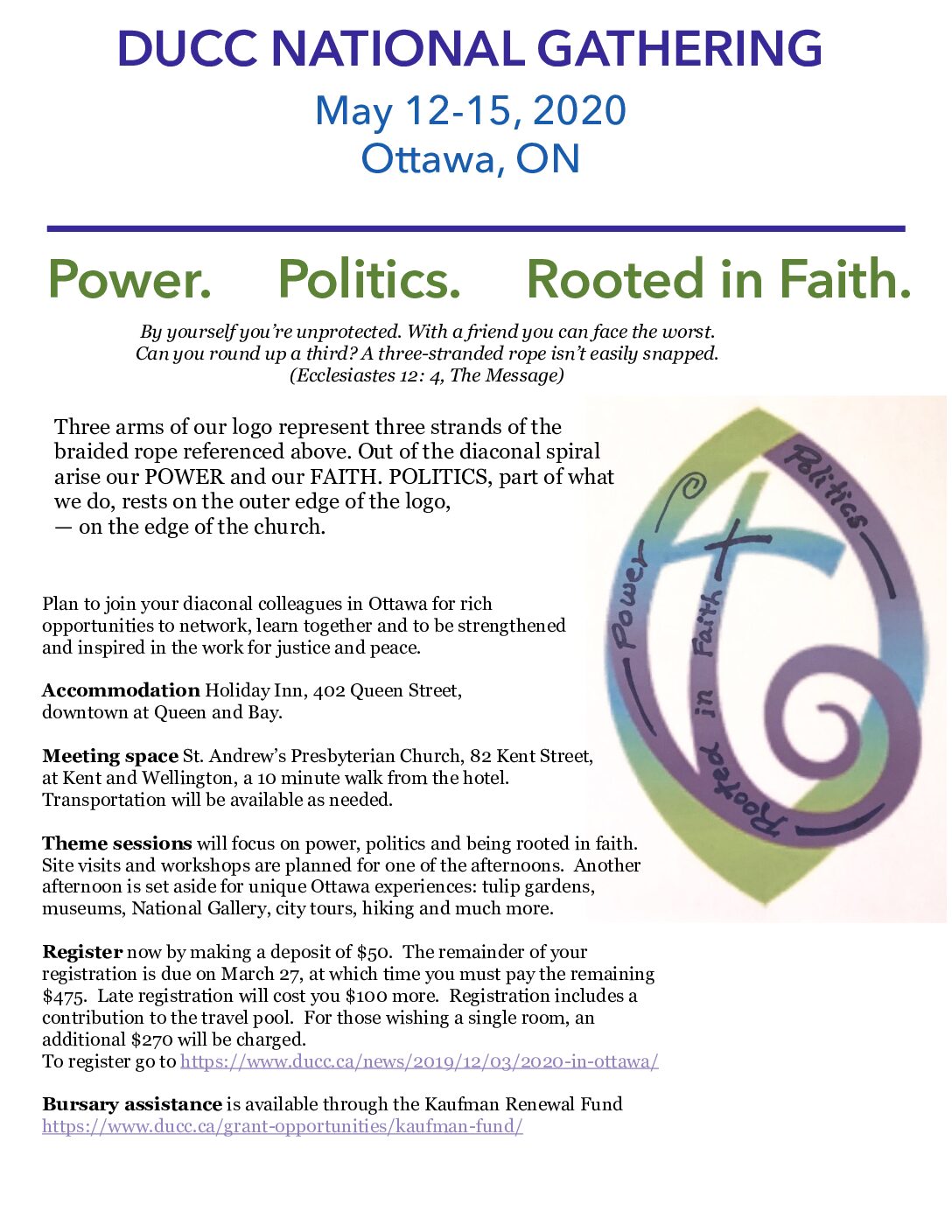 POSTPONED UNTIL FURTHER NOTICE
St. Andrew's Presbyterian Church, Ottawa, Ontario
Register at noon on Tuesday.  The meeting begins at 2pm.  We finish at noon on Friday with closing worship.  (See agenda below.)
Registration is open.  Registration deadline is March 27, 2020. Late registration fee is an additional $100.
Power. Politics. Rooted in Faith.
By yourself you're unprotected. With a friend you can face the worst. Can you round up a third? A three-stranded rope isn't easily snapped. (Ecclesiastes 12: 4, The Message)
Three arms of our logo represent three strands of the braided rope referenced above. Out of the diaconal spiral arise our POWER and our FAITH. POLITICS, part of what we do, rests on the outer edge of the logo, — on the edge of the church.
Documents
DUCC Reports 2020 not available yet.
DUCC 2018 Minutes not available yet.