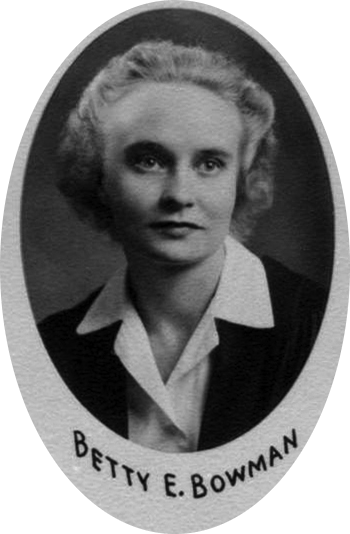 Betty Bowman Syer, first a deaconess in 1952, was disjoined a year later in 1953.  Thirty years later, after the age of retirement, Betty sought reinstatement.  Her identity as a Deaconess, in her opinion, remained with her throughout her productive volunteer ministry in the church.
Betty was born in Saskatchewan in 1917. Her father was a piano salesman and the family moved around a lot.  After the depression began, Betty's mother and father took up farming in northern Alberta. Betty and her sister then stayed in town with a family to continue their high school education.  Her mother became ill so she and Betty moved to Victoria, with the hopes that the climate would be better for her health.  When Betty was in her late teens her mother passed away.
Betty completed teacher's college in Victoria and taught in a one-room school house in several communities in British Columbia.  She also taught in the Japanese internment camp at New Denver, BC, during the War. She maintained contact with families she had befriended there for much of the rest of her life. It was perhaps this experience that led her to enter the United Church Training School in the fall of 1945 for the two year program.
Upon graduation in 1947, Betty was commissioned by the Woman's Missionary Society and appointed to serve Knox United Church in Trail, BC, probably because she had experience with interned Japanese Canadians, as Trail was one of the sites where they had been sent, as was her next posting.  In 1951 she moved to Consort, AB, serving as lay supply, where her supervising minister was Keith Syer, who would eventually make a proposal of marriage which she would accept.  But before that Betty decided to become a Deaconess, and was designated by Alberta Conference in the summer of 1952.
Keith and Betty were married August 21, 1953.  They planned on being married in Coronation/Consort, the pastoral charge where Betty had been ministering, however the polio epidemic was in full force there, and there were not to be any large gatherings for fear of the disease spreading.  So they were married instead in Trail, BC.  As was required, Betty was disjoined from the Deaconess Order at the time of her marriage, she lost her status as well as her job.
Myrna Budgeon, a friend of Betty's in her later years at Crossfield United Church, in Alberta observed that despite all the hardships Betty had as a young person she only spoke of her life as one filled with opportunity and hope.  This view was reiterated by her son, one of three children, Jamie Syer. He described his dad, Keith, as the scholar and his mom, as the story teller.  She remembered names and faces, which, Jamie notes, helped his dad on many occasions.  They were very much a team. Everywhere they went they made an impression. They gained friends in every pastoral charge they served and Jamie remembers that the annual list of Christmas cards that needed to be sent out grew and grew each year because of all the people they had become friends with along the way.
As Jamie recalls, Betty never considered herself to be a minister's wife, she said she didn't have the presence or confidence for that role.  She didn't express any anger at having been disjoined for marrying.  In 1983, a year after the United Church established Diaconal Ministry as a full order of ministry, Betty petitioned Alberta Conference to be reinstated at 66 years of age.  Being past the normal age of retirement she never worked professionally for the church.  One wonders what motivated her to seek her status then.  She could initiated the process in the 1970s when the rules regarding Deaconesses being married and working were shifting.  Jamie remembered that when she was reinstated she laughed because she never thought of herself as anything other than a Deaconess.
Betty loved children and besides having a passion for CGIT, Betty also started kindergartens in several of the communities in which she and Keith served.  Most began in their basement and she never thought of them as child care, rather kindergartens, because the children were being educated.  Betty placed a lot of emphasis on the education of young people and even taught her own children to read before they entered school.
Betty died March 12, 2008 at the age of 90. She was predeceased in August, 2007 by her husband of almost fifty-five years.
Written by Caryn Douglas.  This biography is based on a profile written Tracy Robertson, 2011 for The Centre for Christian Studies, and from notes Caryn Douglas gathered in a 2009 project related to the Apology to Disjoined Women made by the United Church in 2006.