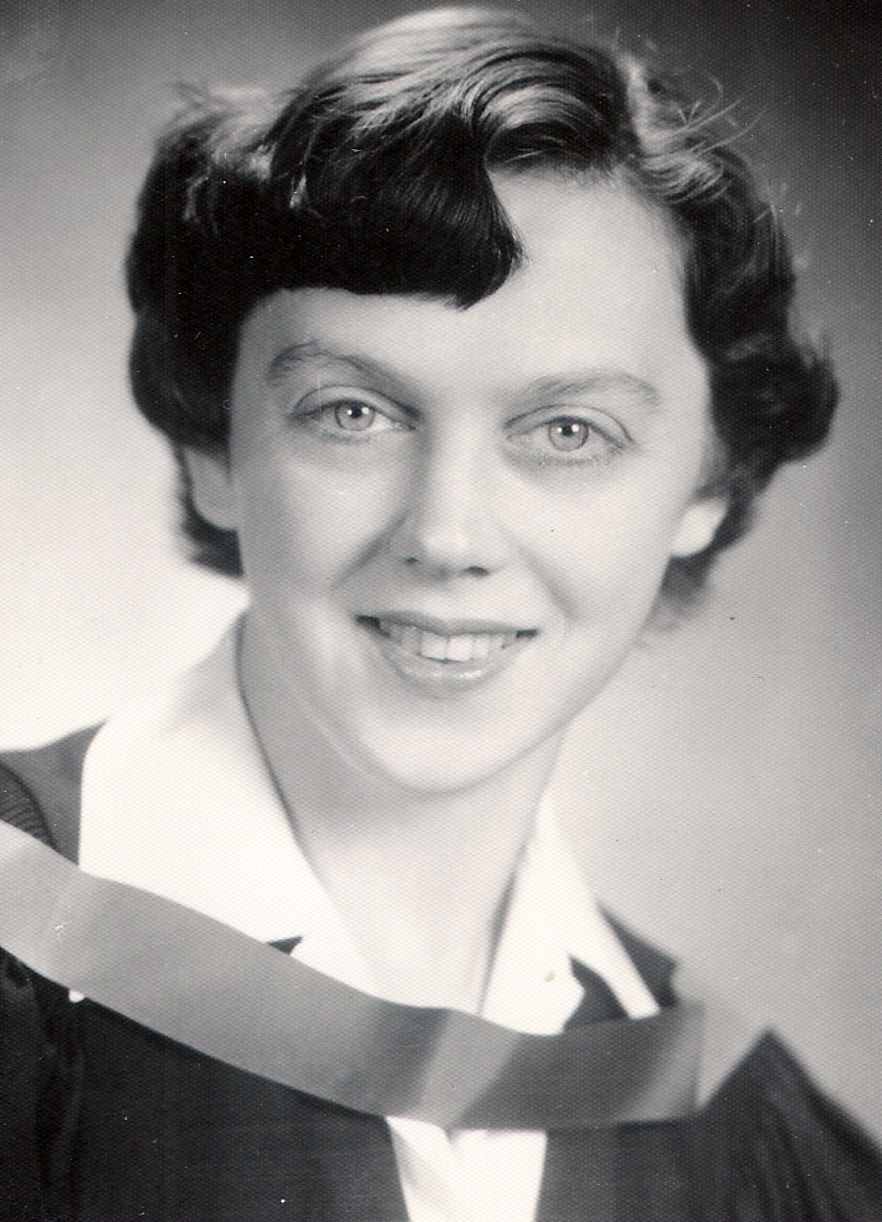 The first thing you would notice about Daphne Rogers was her size.  Not even 5 feet tall, barely 100 pounds, she was small.  Next you would notice her smile: broad and frequent.  Daphne liked to laugh and enjoyed making others laugh.  After 36 years in Japan, she had adopted many eastern mannerisms and the odd Japanese word peppered her conversation.  Her positive and gracious nature was another notable.  She liked people and enjoyed company.  She modeled a servant ministry and carried out an effective diaconal ministry.
Daphne was born in Yarmouth, Nova Scotia, May 27, 1930. Her father, Gerald, a Presbyterian minister, was a keen supporter of church union in the early 1920s.  He was called to Westminster Presbyterian Church in Winnipeg, Daphne recalled, by those in the congregation who wanted to make sure that the church joined in the union.  Little did Gerald know that his move west would result in a much more intimate union. It was at Westminster that he met Daphne's mother Margaret, the very talented, and quite a bit younger than himself, church organist.  Her mother's main focus was the home and caring for her 3 children, Jocelyn, Daphne, and Gerald, along with a priority on being involved in the church. This was a key backdrop for Daphne's growing up. Her mother also made certain that music was a big part of the Rogers' family life. The piano was prominent, even in small manses, and Margaret would play requests for the children and for visitors who stopped by.
Daphne spent the war years, an impressionable time in her young life, in Halifax, and remembers when the battleships came into harbour.  The church where her father worked would open its doors to sailors, hand out sandwiches, and members of the church and community would visit with the men.  The image of the church being there when the need was great stayed with Daphne. So too did the day the war ended. Peace was declared in the early morning and the day was spontaneously declared a holiday. The teacher, with the rare wisdom of foresight, gave the students a strict warning to go straight home, as she was not certain what might happen.  The "Halifax Riots" that erupted that day remained memorable in Daphne's mind.
In 1947, Gerald was invited west again, to be the minister at Knox United in Edmonton, and the family moved across the country to Alberta. Daphne was in high school at the time, and felt like she was moving "from sophisticated Halifax to the wild and woolly west."  In her view, the school she attended in Edmonton was very relaxed compared to the strictness of schools in Nova Scotia, and she worried she wasn't getting a proper education.  Daphne recognized other cultural differences too. Having grown up in church manses, never having lived on a piece of land owned by herself or her family, she had no feeling for the land like the farmers in the west had. Later, in Japan, she appreciated having learned why the land, and a homeland, mattered so much to people.
Like other young women in the church, Daphne was very active in the CGIT (Canadian Girls in Training), which had a big impact in her teenage years. She attended a CGIT camp where Katharine Hockin, a former missionary in China and graduate of the Deaconess school, the United Church Training School (UCTS), was one of her leaders. She said that even then she could see that Katharine was "a woman way ahead of her time."  She made a lasting impression on Daphne.
At the University of Alberta Daphne studied elementary education, and graduated with a B. Ed in 1956. She taught for a short time in Edmonton, but her life time ambition to be in church work took her to study at the UCTS in Toronto in 1957.  She again encountered Katharine Hockin, now on the teaching staff, and now a Deaconess.  Through Katharine, Daphne's view of mission was profoundly shaped, although it took several more decades before she was able to witness the level of reciprocity in mission that Katharine proclaimed.
The mission experience in Japan was different from many of the other places that Canadian missionaries served.  Post war Japan was a conquered country, but it was not colonized by the west and Christianity was marginal as a religion.  As Daphne experienced Japan it was still poor and in the recovery period after decades of military enterprise, including its costly involvement in World War 2, but it was not "under developed" by contemporary standards of the late 1950s.
Daphne was not the trail blazer that Katharine was. She was supportive of the emerging mission goal to develop local church leadership and committed to an indigenous church, as she could see that a Japanese church could only grow in that context. But Daphne's politics and theology were not radical.  Daphne wasn't the kind of woman to put herself on the edge, although, she made a life for herself in Japan at a time when anti-Japanese sentiment was still strong in Canada.
When reflecting on her time at the UCTS, Daphne also recalled the mind opening course on the synoptic gospels(1), a favourite of many students, and she enjoyed the preaching course. With Daphne's interest in people, it is not surprising that some of her fondest memories centre on relationships with others living in residence, including scholarship students from overseas who were studying at the University of Toronto. Daphne enjoyed the diversity in the residence, which made for some good mealtime conversation and was another key place to learn. (Click here to see UCTS 1959 Student Yearbook.)  She also recalled Sunday tea, part of the curriculum, which was quite a formal event.  Many of her fellow students resented having etiquette training, but Daphne remembered the teas as a lovely time to visit with people, and later, in Japan, Daphne's appreciation for formalized social rituals grew.  Being a guest at Japanese tea ceremonies was a privilege from her view and she readily enjoyed accepting the hospitality offered her over the years.
It was customary for the Woman's Missionary Society representatives to visit the Training School with a goal to recruit women for service overseas.  Missionary work appealed to Daphne but unlike some of her classmates, she didn't have a specific destination in mind.  When Mrs. Isobel Loveys of the WMS, presented Daphne with the list of openings she began to search for a clue to her future. She recalled that the list was alphabetical, and started with Angola. She said "no" to each country as she went down the list until she came to Japan. She said that she didn't even consider anything else, her mind was just made up.  At the start of her second year, Daphne applied to go to Japan. She said that at the time, Canadians' knowledge of other cultures was very limited – especially Asian cultures, but people were very interested in her decision to travel overseas. Being a missionary was viewed by many people as a romantic occupation.  Daphne wasn't surprised to meet the view in United Church people that she was going to "save" people and to convert the heathen, although even in the 1950s this was not the approach the United Church took to mission work.  She found however, that many of the women who had been active in the Woman's Missionary Society (WMS) studies over the years had a much more modern appreciation of the United Church's activity abroad.
Daphne graduated from UCTS in 1959, and was set apart as a Deaconess. For Daphne, becoming a Deaconess was a way to make a public commitment to serving Jesus.  She said that "a diaconal minister was once a single lady, brought up in a prim and proper system, and expected to dress in a particular way, but this has since changed," and as far as she was concerned, changed for the better. For her, the diaconate was ministry and she always saw herself as a minister, although she commented that it was hard to recall when her understanding of her work as "ministry" developed.  When she was first designated the work of Deaconesses was seen in a different light, and their status was different than that of ministers. In the mission field, though, there wasn't any difference made between women workers and Deaconesses, although Daphne remembered there was a clear status difference from those who were ordained, not just among the missionaries, but also among the Japanese Christians who often "looked up too much to missionaries."  She said that the missionaries worked consciously to empower the local people to be the leaders, but it was sometimes hard. Japan has a very stratified social structure and reverence toward people in a higher social class is important. Daphne valued that diaconal ministry proclaimed a humility she saw as essential in mission work.  After 1984, when Deaconesses became Diaconal Ministers, and the self-understanding of Diaconal Ministers changed, Daphne could see that over the decades her self-perspective had changed too.  Daphne was proud to be a Deaconess and Diaconal Minister, but she was very adamant that what was paramount for her was doing the work and being able to show that her motivation for working with people was her faith. Daphne described diaconal ministry this way: "it is a special form of communication between church workers and church members (the laity)." She felt that diaconal ministry has to be flexible, and has to be open to new ideas, which she commented gets harder as one gets older. She added that "love would have to be the basic word – love and appreciate the people around you; show some of the Spirit we're called upon to show." Daphne became a member of the Diakonia of the United Church of Canada (DUCC) while in Japan, and stayed very connected with this group.
Because Daphne was sent to Japan through the WMS, there was a lovely appointment or commissioning service held in Toronto when she was officially appointed. After the service, the WMS treasurer gave her an envelope containing her first pay.  It was a moment of recognition that she was really going to Japan! The WMS also paid for her to travel back west to visit with her family before she left for oversees.
In preparation for her new life, Daphne spent one month studying linguistics with other missionaries from various denominations, and then had a one month orientation in Fort Erie, New York. She arrived in Japan October, 3 1959. She remembered that her first Sunday was Worldwide Communion, which was quite meaningful for her.
In Japan, Daphne lived in the ecumenical Mission House in Tokyo. The lifestyle there was comfortable, as the missionaries had a cook, a maid, and a driver.  In later years, as the economy in Japan improved missionaries couldn't afford these luxuries, but they also didn't want them, desiring to live more like the people that they served. Daphne always lived with other missionaries and even when they were responsible for feeding themselves, she never really learned to cook.  In the last few years of her life Daphne was diagnosed with Celiac disease.  She wondered if that accounted for her small size. She pointed out that while living in Japan she had eaten much more rice than flour based products and that might have been better for her health than she had known.
All of the United Church missionary assignments in Japan were in schools, and there were a number of missionaries assigned to each school, under the auspices of either the United Church Board of World Mission, or up to 1962, the WMS. Daphne taught in three different United Church girls' schools, all were very elite schools for privileged children.  When asked about missionaries serving the privileged Daphne admitted it could appear inappropriate, especially toward the end of her time in Japan, as the economy had improved and the country was back on its feet.  In the earlier part of her career though, she explained that even privileged children had a standard of living below Canadians. She was also clear that the commitment of the United Church was to education for girls, who didn't have as many options as boys in the Japanese system. Daphne was concerned though about the amount of pressure that children were under to perform well in school.  She could see a big contrast between the values for rearing children in Canada and in Japan.  She was particularly critical, during the last years before her death, of families that would register their children for the "best" schools the day they were born.
Daphne's first assignment was in Tokyo, where along with continuing language study, she had part-time work teaching at Toya Eiwa Girls' School, founded by Martha Cartmell, the first Methodist woman missionary. From 1962 to 1964 she was in Shizuoka, which is on the sea coast between Tokyo and Kobe, teaching at Shizuoka Eiwa Girls School.  Her next move was to Kofu, which is in the west of Japan in the mountains, where she stayed from 1965 to 1975, assigned to Yamanashi Eiwa Girls' School. In 1976 she returned to Tokyo, and again taught at Toyo Eiwa. (Mandate article 1980) She stayed there until she left Japan to retire in 1994. Daphne taught oral English, mostly at the Jr. and Sr. High level, but also a bit of Junior College and some elementary. In reflecting on her work she commented, "It was thrilling to learn that I enjoyed teaching English and that I would find being an educational missionary a joy and a challenge. It was a joy to work with Japanese colleagues and feel wanted and useful."
Daphne observed, "the Japanese people – the general public – are very polite, particularly to foreigners. Throughout my time in Japan, many people stopped and offered to help me with various things."  Daphne's long tenure in Japan meant that she became fluent in Japanese and that was a big factor in her comfort in the country, and enabled her to interact with people easily.  After her retirement, back in Canada, Daphne enjoyed going to Japanese restaurants and shocking the servers when she ordered in fluent Japanese.
Japan is a country with a long history of missionaries, although only about .5% of the population is Christian. The national religion of Japan is Shinto, and Buddhism is also very prominent. In each location Daphne lived, she was connected with a church through the United Church of Christ in Japan. Many church members were grads of the schools she taught in, and Daphne also recalls that each Easter, the church in Tokyo held a service which included baptism, and every year, some senior graduates of her school chose to come forward and be baptized.  Daphne was an educational missionary, but she always understood that part of her work was evangelism, not the soapbox type, but if people were interested in Christianity, she was there to help them develop in understanding and would support those who wanted to make a proclamation of faith. Daphne had a high Christology, and her commitment to Jesus Christ would be voiced in her theology before speaking of God.  In her later years she was concerned that the United Church was watering down Jesus and the focus on Jesus.  She also had that concern about the manner in which diaconal ministers expressed their communal belief.  For example, in 2007 when the United Church diaconal community was developing a new creed she argued that the opening line of the DUCC's statement of faith should name Jesus and she felt the statement was weak on Christology.
The United Church required retirement of ministry personnel at age 65, and so, as that age approached, Daphne began to contemplate her retirement, and where she, as a single person, might go to live. Staying in Japan, her home for 35 years, was not an option.  She knew she had to return to Canada. Her brother was in southern Alberta, her sister in Vancouver, but both had families of their own. Daphne decided to return to Edmonton, where she still had a lot of connections. The former Knox United Church, where Daphne's father had been in ministry, had amalgamated with Metropolitan United, and Daphne was able to reconnect with the Knox-Metropolitan congregation.
Her first year back in Canada, 1994 to 1995, she was on home assignment, with many speaking engagements, educating Canadians about the work of the church in Japan.  She really enjoyed this work, as she had on previous furloughs where she had done the same thing. Educating Canadians about mission and outreach was an essential part of the whole missionary effort of the church. Daphne liked preaching and she welcomed the opportunity to renew old connections and make new relationships throughout Alberta.
With energy and interest, Daphne busied herself as a volunteer, even though she had both a hearing loss requiring hearing aids, and vision problems as a result of glaucoma which went undetected and untreated while she was in Japan.  She was a tutor with the Boyle Street Co-Op Learning Centre, which is in the inner city of Edmonton. She served on the Mission and Outreach Committee at Knox-Metropolitan United Church, and on the Local and Global Justice Committee of Edmonton Presbytery. For a number of years she was the membership Secretary of Diakonia of the United Church of Canada (DUCC).  Daphne enjoyed the regular contact that gave her with members of the diaconal community across the country.  She regularly attended regional gatherings of diaconal ministers and the national gatherings of DUCC.  Daphne had a big apartment very close to the University of Alberta, and was a frequent, and gracious, host to diaconal students who were in Edmonton to take intensive theology courses at St. Stephen's College.  It was a tangible and well appreciated way to contribute to the diaconal community.
Daphne also frequently acted as host to visitors from Japan, through the church, but also at times by request of the City and Province. She returned to Japan twice after her retirement. The first time, she went back on her own, and celebrated her 70th birthday there. In 2004 the Mothers' Association of the Tokyo school invited Daphne back for another visit. She maintained contact with many people in Japan, receiving Christmas cards from the schools where she worked and wedding and baptism pictures from women she had taught. When asked to comment on her overall experiences in Japan, she said that she learned a lot. Her time there strengthened her faith, particularly when people around her dared to show their faith, knowing that their neighbours were not Christian.
In 2007 Daphne's health began to decline. Probably as the result of a stroke, her balance was poor.  This necessitated a move out of her apartment to an assisted living residence for seniors, where she participated as actively as her health permitted.  With her hearing and eyesight difficulties, complicated now by some loss of mobility, Daphne's ability to be involved in things was lessened.  But it didn't dampen her positive spirit and her inner desire to be connected with community. She was always friendly and helpful to staff and other residents in the building and she continued to take an interest in other people.  She did not retreat inwardly as some in her situation might have.  In 2009, she had a bad fall, and was hospitalized and she died on October 24.
A memorial service was held at Knox Metropolitan November 7, 2009 and some of her ashes were placed in the Memorial Garden there.  On October 24, 2010, a year after her death, Daphne's neice Margot Pritchard and her husband attended a memorial service at Toriizaka Church, in Tokyo, Daphne's congregation while in Toyko.  The remainder of her ashes were interred in Toyko's  Aoyama Cemetery.
This biography was written by Caryn Douglas, drawing on the following sources:  conversations Caryn Douglas had with Daphne over frequent visits 2003-2009; A biography of Daphne Rogers, by Susan Fitch, 2006, unpublished paper; The Newsletter, Historic Issue Spring 1988, Association of Professional Church Workers, Letter from Jocelyn Pritchard, Vancouver, to Friends of Daphne Rogers, December 2010; Alberta Northwest Conference of The United Church of Canada, Record of Proceedings of 2010 Annual Meeting, In Memoriam, Daphne Rogers, 1930 to 2009.
(1) The synoptics course was taught at UCTS for several decades, using the Sharman Method which encouraged students to approach the scripture with questions and emphasized finding the political meaning for the contemporary context.  It was experienced as liberating for the students, and contrasted with a more neo orthodox approach at Emmanuel College where the women also took theology courses.