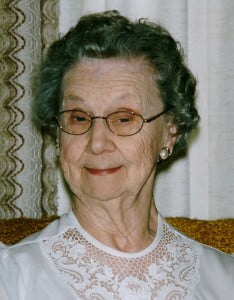 Mary Irene Field was a thoughtful and gracious woman, who quietly served some of the needest people in her community.  She was proud of her education at the United Church Training School, and spoke with energy about the gift the school gave her to explore and deepen her faith, and, for the development of close friendships.
Born in Cape Tormentine, New Brunswick, just at the outbreak of the First World War, Mary grew up active in the church and with a desire to do something with her life to be of service to others.  Like many young women of her day, she was caught with the dream of being a missionary after a touring Woman's Missionary Society missionary told her story.  And like many women in the 1930s, she chose nursing as a career and took her training.
Mary entered the UCTS in September 1939, again as the world was on the edge of a World War.  After her graduation in 1941, she was commissioned by the Woman's Missionary Society as a nursing missionary and went to work in Mission Hospitals.  She worked in hospitals in Ethelbert, Manitoba and Hearst, Ontario.
Again, like many women of her day, Mary gave up her adventurous missionary career to return to New Brunswick, where she married David Field.  They lived in Port Elgin; David worked for the Power Commission and Mary focussed on raising their two children, along with a giving a great deal of energy to Trinity United Church.  She was very active in the local WMS, and later, her United Church Women Unit.
In the mid 1960s, when her children were older, Mary and David relocated to Moncton while she refreshed her nurses training, but rather than a career again in the hospital, Mary established a care home for people with disabilities and chronic illnesses.  Mary's daughter in law Margaret said simply, "people loved her."  She was kind and caring.
Well into her 80s Mary lived with her daughter Elizabeth, who had special needs.  She took pleasure in her two granddaughters and her five great grandchildren.
Hearing loss and advancing Alzheimer's affected the quality of Mary's life toward the end.  She was living in a home at the time of her peaceful death in 2011.
This memorial was prepared by Caryn Douglas, March 2013.