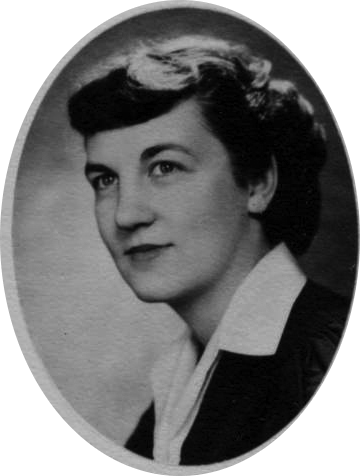 Alice Margaret (Creighton) Read
March 1, 2011 our local paper The Daily News ran an obituary that tugged at the hearts of many in our city. Alice Margaret (Creighton) Read had died at the age of 80 years. She was a spiritual mentor, a respected and beloved Diaconal Minister (1) , and a dear friend to many here in Dawson Creek, British Columbia.
Margaret was born March 24, 1930 at Luseland, Saskatchewan to Dave Creighton and Jennie Allan, the youngest of 5 children. Throughout her public school years she was an active member of the local United Church, singing in the choir, learning the piano. Singing with Margaret in our church choir is my fondest memory her, listening to her beautiful soprano voice and sharing in her quiet joy in being able to sing with us even into her 70s.
Margaret's family moved to Chilliwack when she was 16 and it was there that she completed her high school and then attended Vancouver Normal School for teacher's training. She taught grade school for two years at Sardis, in the lower mainland until she made the decision to move to Toronto and attend the United Church Training School to study to be a Deaconess.
While at the Training School Margaret met Eric Read, a student at Emmanuel College. Upon her graduation in 1955 she had to make a decision between her love for Eric and her deep desire for family life and a professional career in ministry because the policy of disjoining banned married women from the Diaconate. She decided to marry Eric and assume the role of minister's wife. They were married in the chapel of the brand new UCTS building at 77 Charles Street West in Toronto.
The Read's went together as missionaries to serve the Church of Central African in Northern Rhodesia (now Zambia) and served there for nine years. Officially both Eric and Margaret were appointed but Margaret's work was not recognized and she received no salary, nor any pension. It was the custom at the time. Margaret's vocational calling expressed itself in active support of Eric's work and the life of a missionary family far from home. Her four children were all born overseas. With Jean, Jane Anne, Sheila, and Allan, Margaret and Eric returned to Canada in 1964.
Margaret supported Eric's work in Innisfail, Alberta; Kemptville, Ontario; Haileybury, Ontario; and Nanton, Alberta; yet she remained the unpaid, and officially unrecognized, member of the team. But that all changed in 1982 when Margaret was commissioned as a Diaconal Minister, 22 years after the disjoining rule was lifted.
She and Eric worked together in team ministry at the Broadview Charge and then Tisdale, both in Saskatchewan. (UC Observer article on Clergy Couples in Saskatchewan)
In 1990, Eric took early retirement and Margaret accepted the position of Diaconal Minister at South Peace United Church in Dawson Creek, British Colombia where she served until 1998. Eric and Margaret resided here in Dawson Creek for several years after retirement but because of failing health they moved to Nanton, Alberta to be closer to family. Aging and Alzheimer's took its toll over her final years. Margaret left us February 20, 2011. A memorial service was held at Nanton-Parkland United Church. Long-time friend, Diaconal Minister Marilyn Anderson Corkum, presided. Eric passed away on October 25, 2013.
Margaret is remembered among us for her many gifts – her love of singing, her cooking and sewing to name just a few. She initiated the South Peace Players, a dinner theatre that has been a popular community event ever since. She was a "star" player and often was supported on stage by Eric. Mostly, Margaret is remembered for who she was – a kind and generous individual even in the mist of difficult and sometimes painful losses and struggles. Her authenticity and integrity in all her relationships identified her as one who walked well with the Holy, open and responsive to the Spirit within her and in all those she ministered with. One congregational member described Margaret's work on the Healing Ministry Team as the closet witness to divine presence she had ever known.
Margaret lost her two brothers and two sisters and then two grandsons during her lifetime. She faced these deep losses with courage and grace. The complexities of life were met with courage, where she modeled the faithful acceptance of simply living through the crisis, not anxious about needing to resolve or fix things.
Margaret understood ministry as service, a diaconal ministry of elegance and sophistication that matched the china cups she used for tea with parishioners. In a particular ministry context that was potentially divisive she did not let the tension dominate the scene. She addressed personality challenges by naming and voicing concerns when it was necessary and empowering others into action when appropriate.
Many remember Margaret's creative and strong worship leadership. She was dignified in her ability to be in the role of "minister", offering institutional presence with confidence. When she shared her wisdom and spiritual depth in the worship service the listener knew this woman spoke from the heart – she was deeply grounded in life and in the spiritual; finely connecting both as one integrated experience.
Finally, we cannot speak of Margaret without lifting up her passion for justice issues. She brought a mission focus to so much of church life. No doubt this was shaped by her earlier experiences in Africa. She was directly engaged in many of the justice issues, especially in the 1980s. Her commitments were evident, for example, in the inclusive language she offered in liturgy and worship. There were also apparent in her approach to congregational politics where she modeled teamwork as she lived the value of 'power with' rather than more prevalent model of 'power over' in many of the ministries around her.
Margaret is remembered for her ministry of grace, service and accompanying friendship and generosity for all.
---
(1)  Technically, Margaret was never a Deaconess. She is remembered as a deaconess however, because it was only the policy of disjoining that prevented her from taking on the vocation to which she was called in 1955. When she joined the Order in 1982, the nomenclature and status of the Diaconate had changed, but Margaret's calling had not.
The initial biography was written by Alice Hanson October 2011 for an assignment at the Centre for Christian Studies, editing and additions by Caryn Douglas.