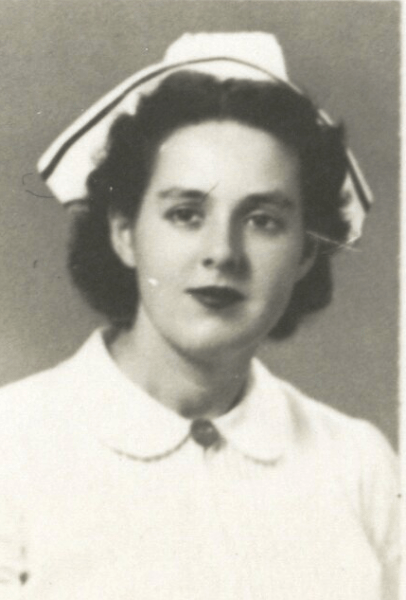 Lillian Jean Marie Taylor was a woman of good humour and great compassion.  She was practical and forthright in offering her service, motivated by a deeply inherent love for God, whose face she saw in all those in need.
From an early age Lillian aspired to be a missionary and like many young girls growing up in the 1920s and 30s the stories of the Woman's Missionary Society (WMS) activities in China were inspiring.  In preparation for service, Lillian studied at the Toronto Western Hospital School of Nursing and became a Registered Nurse.  When she presented herself, the WMS sent her to the West China Union University Hospital in Szechuan, as an operating room nurse in 1947.
Life was never easy for the mission personnel in China, but Lil could hardly have arrived at a more difficult time. By 1950, the situation in China was growing increasingly challenging as the government of Chiang Kai-shek was overthrown and China became a Communist state. Communists began to take over mission universities, hospitals and churches, and missionaries began to move to safer areas. Nevertheless, most mission activity continued on although with reduced attendance, and great economic difficulty.  The Board of Mission felt that the Missions could continue and thrive once diplomatic relations were made between Canada and the new regime.  However, the Woman's Missionary Society was moving their women out, and all of them applied for exit permits. It was becoming increasingly clear that foreign missionaries were being branded as agents of Western Imperialism and the intensity of propaganda made it advisable to withdraw.  Lillian's exit visa was obtained and she left China in 1950.
Her dream to be a missionary was still intact, but she needed a new plan.  Lillian entered the United Church Training School and graduated in 1952.  It was the largest graduating class the school had ever had.  In this post war period of Sunday School boom and economic optimism spirits were high.  While at the Training School Lil became good friends with Etta Snow, also intent on mission work.  The WMS, the largest employer of women in the United Church, attracted many of the students.  Becoming a WMS worker by being commissioned as a missionary, was much akin to making a commitment like a Deaconess.  For many WMS women the commitment was threefold: to God and Jesus; to the WMS and its sisterhood of other workers, along with the hundreds of thousands of local members throughout Canada; and, as a smaller aspect of the trinity, to the United Church of Canada. Katharine Hockin, a missionary in China said of the WMS, "You never felt you were an employee. You felt you were all sisters. We were all basically servants of the Kingdom".[i]
Lillian, along with Etta, with the help of the WMS Overseas Missions Executive Secretary, "Mrs. Taylor", as she was known as, were assigned to Angola.  Thirty one year old Lil left the New York harbour in August as one of 7 United Church folks, 4 as WMS appointments and 3 with the United Church Board of Mission, destined for Portugal for language study.
Etta Snow recounts this story about Lil.  The last night on board their ship, champagne was served. Etta had never had any, but Lillian assured her it was lovely and along with the other two WMS women they enjoyed a glass.  One of the Board of Mission people however was appalled, proclaiming, "lips that touch liquor will never touch mine!"  Later, Lil had her co-drinkers in gales, impersonating the temperance missionary and asking, "who would ever want to kiss him anyway?"  During their orientation in Lisbon the issue was raised again by the offended missionary's wife.  The orientation leader smiled and explained that in Portugal wine was literally as common as water, and often safer to drink, so that they would have to get used to it.[ii]
After 8 months in Lisbon the new missionaries were ready to go to Angola but a delay in getting visas from the government of Portugal, meant Lil and her WMS co-workers spent the summer in England, only able to arrive in Angola in the fall of 1953.
From Lil's reports in the WMS publication, Missionaries Reporting, it is possible to discern how conscious she and the other women were that their work was ministry.  It is also apparent that the underlying their medical efforts was an evangelistic commitment.  Their work was characteristic of its time for the United Church; the attitude toward empowering and developing local leadership was progressive and conversion to Christianity was never a requirement for the receipt of services, yet, embracing Western cultural norms and westernized Christianity was assumed to be a desired goal of Angolans.
Much of Lil's medical work in Angola involved supporting and training local Angolans to be nurses.
Working with our [approximately 50] students has been very enjoyable. Most of these young people after graduation will return to their villages not only to look after the sick, but to give Christian witness and leadership. Therefore, it behooves all of us to set the very best example we can of Christian living so they will unconsciously absorb and carry away Christian ideals of healing, working and loving our fellow man.  Shortly after I arrived in at Dondi [Mission Station] Marie Crosby, whom I moved in with, and I began Sunday evening services in our home with the students.[iii]
The missionaries were also progressive in terms of their work among girls and women.    From Lil's 1959 report:
[Using a medical analogy seems appropriate here.] Angola has an illness – lack of education – but is only using one medicine to cure it, education of boys, instead of two medicines, education of boys and girls. It is true, boys still get first chance in the family, but no group of people can advance if the girls are not given an equal chance to learn Christian home-making.[iv]
The missionaries were able to advance their goals significantly, by establishing schools for girls and putting an emphasis on teaching girls to read through the "Each one Teach one" method.  (The Laubach Method of "each one, teach one"   http://www.laubach-on.ca/)
Lil also writes about her struggles to learn the language.  Angola was a Portuguese colony and Portuguese was in use throughout the country, but it was not the language that most of the rural people spoke.  After the year studying in Portugal, which was required by the colonial Portuguese government, the women still had to learn one of the major local languages.  Other work conditions were difficult and hard to even imagine from current Canadian standards.  As Lil explained to her WMS audience, "we did some alterations in the hospital. We now have a new Operating Room Suite, a new maternity ward and soon we will have electricity so we can use the new X-ray."[v]
In 1958, Lil was at the station at Bunjei, but for much of the year there was no doctor.  "It will be good to welcome the doctor so I can return to being a nurse and not have to make all the decisions," she wrote.I received a call to go to the hospital to see a child who had been bitten by a crocodile. He came from a pagan village forty miles away. Imagine my horror when I removed the bandage to find the hand completely gone. I knew reamputation was the only thing which would control the hemorrhage and infection, so we rushed him to Dondi where Dr. Betty Bridgman performed an emergency amputation at midnight. Joses' life was saved and he is now enrolled in one of our Christian village schools. If he passes he comes to the mission school in a few years' time.[vi]
While the women were busy working to alleviate suffering and establish rudimentary health care, the political situation in Angola was changing.  In keeping with movements across Africa in this period, Angolans were looking for freedom from the repression of their colonial rulers. In 1961 the War of Independence from Portugal began. It was to last until 1975.  The war was waged against the Portuguese Armed Forces by 3 main rebel groups who did not cooperate among themselves. It was primarily a guerilla war in which Angolans citizens were terrorized from all sides. People were taken prisoner, or just disappeared. The war was also a battlefront in the Cold War between the Soviet Union and the United States.
Even though church people were expected to remain neutral, Protestants were considered supporters of the rebels by the Portuguese government.[vii] The movements of the missionaries were under careful watch.  Many of the missionaries left as the violence continued, and those who remained were increasingly isolated.  Lil was again faced with the rise of political violence impeding her work.  In 1971, this backdrop of unrest, coupled with her mother's need for nursing care, resulted in her decision to return to Toronto.  She cared for her mother and took on work as a Public Health nurse, working primarily with the Portuguese community in the city.
In 1975, when the government of Portugal collapsed in a coup, Angola's situation deteriorated and all the missionaries fled.  Any hope of returning to Angola was put to rest.
Lil, like the others who served in Angola, remained passionate about trying to help people. She became very active in the Angola Memorial Scholarship Fund.
Family was important to Lil in her retirement years, especially her nieces and nephews.  She cared for her sister, Ella Giffen, up to her death.  She was also a lover of opera and ballet, and was an avid patron of the arts, as well as a generous supporter of many cultural and humanitarian causes.
Lil died in August, 2001, at 91 years of age.
| | |
| --- | --- |
| 1947 | Appointed by WMS to West China Mission as Nurse |
| 1950 | Forced to leave China as rising political tensions and dangers, enters United Church Training School |
| 1952 | Graduated United Church Training School, appointed by WMS to Angola, one year in Portugal to learn language |
| 1953 | Begins Medical work in Angola |
| 1971 | Left Angola as rising political tensions, ailing mother requiring care |
| 1971 | Public Health Nurse Toronto |
| 2011 | Died August 26 |
---