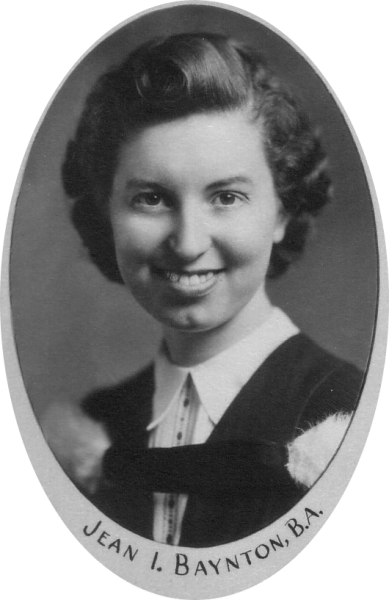 Born October 8, 1918 in Brandon, Manitoba, Jean Irving Shilton was the daughter of Eric and Elsie Baynton and the sister of Harold Baynton. She grew up in Brandon, Moose Jaw and Regina, Saskatchewan, weathering the "dirty thirties" in the heart of a strong family.
Always a fine scholar, she was awarded a Governor General's Medal on leaving high school and subsequently attended the University of Saskatchewan, graduating in 1939 with a B.A.. In her Saskatchewan years, Jean was active in the CCF and took pride in the fact that she campaigned door-to-door with Tommy Douglas.
In 1942, Jean graduated from the United Church Training School in Toronto.  Under appointment of the Woman's Missionary Society she moved west again to become the Girl's Work Secretary for Alberta.  In this position Jean travelled extensively throughout the province working in leadership development with those involved in programs like Canadian Girls in Training (CGIT), Explorers and Mission Band.  Jean also planned and staffed summer camps for girls.  While there was a network of women engaged in girl's work across Canada, Jean created a lot of the curriculum herself.  It was challenging and demanding work.
After a year in her appointment as a Deaconess Candidate, a customary period of probation, she was designated by Alberta Conference in 1943.  However, Jean knew her professional career would be short lived. It was at the Training School that she met her future husband, James Fraser Shilton, who was ordained as a minister of the United Church of Canada in 1943.
They married in 1945, and Jean was disjoined from the Deaconess Order.
In 2006 the United Church officially apologized to the women affected by the disjoining rule.  Jean, like the others, received an invitation to the ceremony.  She declined attending, citing poor health, and sent this letter to the General Council staff person:
I must add that, were I able to be there, I should find it awkward to accept the apology.  While I thought the rule was quaint and mildly amusing, I had no sense of being treated unjustly by the church.  I shared the common assumption in those days that marriage was a full-time job for a woman and since I would no longer be working as a deaconess it was no hardship to lose the designation.  I don't remember being formally notified that I was disjoined and I still have my deaconess pin. [Many women were asked to return their pin.]  Viewed from the perspective of 2006 the rule looks discriminatory, but in 1945 I did not experience it as so.
I know that some women were hurt by the disjoining rule and I hope that the process of apology helps to heal those wounds.   Thank you for including me in the invitation to the service.[i]
In her obituary, Jean's family characterized the next years of her life as a partnership with her husband, in congregations in Rapid City, Manitoba and Wolseley, Saskatchewan before settling at St. John's United Church in Alliston, Ontario in 1953 where Jim worked until his retirement in 1978.
Jean must have had a lot of energy, for in addition to raising six children, and playing a role as a clergy wife Jean she wrote a widely-read monthly column in the United Church Observer during the 1950s, "Prudence in the Parsonage".  The topics of her columns are wide ranging and her style is informative and engaging, demonstrating her intelligence and interest in the world around her.
In the 1960s, when her children were older, Jean returned to school to earn teaching qualifications, and taught English for many years at Banting Memorial High School in Alliston, retiring in 1983. Jean was asked if she had considered returning to work as a Deaconess at the time she turned to teaching.  With the elimination of the disjoining rule it would have been possible.  Jean responded though, that it didn't really enter her thinking.  "One church worker per family was enough."
Following the untimely death of her husband in 1983, Jean moved to Toronto to be closer to family, and became an active member of Eastminster United Church. When her health declined, she moved to the Village of Taunton Mills in Whitby, where she found community and excellent care.
Jean was a wise and compassionate woman of strong character, who remained engaged with the world to the end of her days. She was loved and honoured by all who knew her. She died peacefully in her sleep, January 15, 2012 at the age of 93.
This biography was written by Caryn Douglas, drawing from Jean's obituary and from an interview with her in 2009 as part of a study on disjoined women.