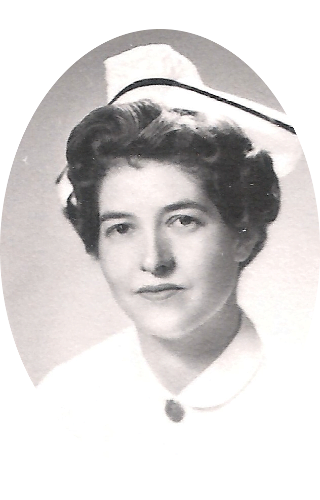 Jean Marilyn Tough was born on August 4, 1935.  She began professional life as a nurse. With her BScN,she pursued a theological education in the interest of equipping her to serve overseas as a missionary nurse. After two years at Covenant College, in 1964 she was both designated a Deaconess by Toronto Conference and commissioned a missionary by the Board of World Mission. Eight years in Hong Kong provided many lessons, from the learning of a tonal language, to the fascination of getting to know people from other cultures and a variety of faiths, to struggling to interpret new trends in nursing education with colleagues.
It also began a new chapter in her life when she married Alfred Day, an ordained minister and colleague in the United Church mission group, and they began a family. They returned to Canada in 1972, and while Alf served several pastorates in Toronto, Jean, retained as a Deaconess but not employed in the church, concentrated on raising two lively boys, part-time university study, and a range of interesting volunteer ventures in congregations, community and York Presbytery.
When Jean returned to the workforce she worked at Public Health Nursing and then in 1985 became Executive Director of the National CGIT Association, since that organization had been important in her Christian formation. Here Jean was following in the footsteps of many Deaconesses who worked for the CGIT over the decades. During those years, she took courses at Emmanuel College, as she was discerning a call to a different kind of ministry. Ordination by Toronto Conference came in 1991 and settlement at Downsview Pastoral Charge in Toronto, where she served until 1997. She had rewarding Interim Ministry experiences with two congregations in transition, Trinity, Uxbridge and Church of the Master and retired in 2001. Jean was a Voluntary Associate Minister at Knox Agincourt for several years and was also a member of their choir. There were many rich experiences, learnings and relationships in her life, and she was grateful to the United Church for all the experiences it gave for her to enact her faith.
Jean endured many years of pain with severe arthritis but friends remark that she rarely complained, even if frustrated by the difficulties it caused for her. Just a few days before Christmas (December 23) in 2013, she drifted away very peacefully while having a nice chat with her granddaughter Joanne.
Jean felt God's hand leading her in life, and trusted it would continue in death.
This biography was written by Caryn Douglas in 2015, drawing on a memorial prepared by Toronto Conference.