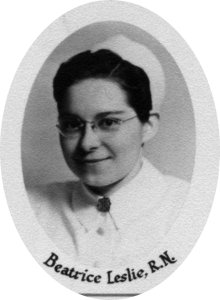 Beatrice May (Leslie) Doidge, born September 28, 1911, grew up in the farming community of Banner, Ontario, about 17 miles east of London, the fifth of six children born to George and Lawrence Leslie.  Her family was very involved in the church. Her older brother, Charles Leslie, taught at Victoria and Emmanuel Colleges, and her cousin was a missionary in Korea.  In a speech Beatrice gave in 1983, she said she had dreamed for years of being a missionary, but money was tight. One of her brothers helped to steer her towards nursing school and she trained at Victoria Hospital in London. Several years later a visiting missionary helped her realize her dream to serve the church and she made an application to enter the United Church Training School in Toronto. She was a graduate of the Class of 1940.
Beatrice was commissioned as a missionary by the Woman's Missionary Society and began nursing at the WMS Battle River Hospital near Manning, Alberta in 1940, a position she held until 1942.
The hospital was opened in 1937. "The early 1930s had seen a continuing influx of settlers to area, many coming from the drought areas of southeastern Alberta.  As a result, there was growing pressure for a hospital.  Much of this came from the Woman's Missionary Society of the United Church, which began to collect promissory funds for a hospital in the area.  The government agreed to contribute the same amount as the WMS and appoint a physician if the WMS would build the hospital."
When the new eight bed Battle River Hospital was officially opened it included space for an operating room, a waiting room, and a kitchen. The second floor was largely given over to living quarters for the three nurses. The only physician, Dr. Arthur Doidge, lived in a separate cabin.
Serving an area of about 4,500 people, the Battle River Hospital accommodated about 1,100 patients between 1937 and 1942, in addition to many more out-patients.
In 1943 Beatrice married the doctor and as Beatrice's daughter Mary explains, "the rest is history". Two years later, "a new three-room cottage was built for Dr. Doidge, who now had a wife, and, in 1945, a separate residence was built for the nurses.  This allowed the second floor of the hospital to be made over into a nine-bed maternity hospital."
Mary continues, "Once they married and I was born, Mom's formal missionary work ended.  She became a full time Mom to myself and three younger sisters, born after my folks left Battle River in 1945 and eventually settled in Barrie, Ontario in 1946.
Once we were old enough, she attended afternoon WMS meetings as a volunteer, organizer, treasurer, and speaker, and found immense fulfillment with women in the church for the rest of her alert life.  She continued to speak about and treasure her time at UCTS and her work as a missionary nurse until her memory failed."
In 2003 Beatrice entered a long term care home in Vancouver.  She greeted her centennial year still physically strong, able even then to walk quite a distance with help and her cheery nature still alive and well.
July 30, 2014, in her 103rd year, she died peacefully at her residence in St Jude's Anglican Home in Vancouver. Her family shared these words in her obituary, "Bea was a remarkable woman of great kindness and optimism who gave generously to her family, church and community. She will be dearly missed."
Written August 2014 by Caryn Douglas with files from The Centre for Christian Studies and the published obituary.
Quotes are from David Leonard, Battle River Hospital History, http://albertashistoricplaces.wordpress.com/2011/07/21/battle-river-hospital-manning/