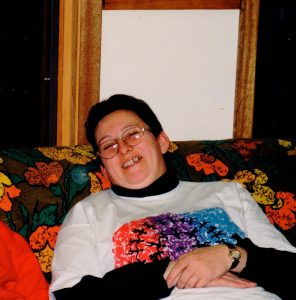 Laurie Ann (Kirby) Storring was born on April 28, 1956 in Bancroft, Ontario, an area that is known for its beautiful natural environment.  Perhaps it is from these beginnings that her love of the outdoors entwined with her spirituality.  She wrote of her cabin in the woods, "In the stillness and quiet moments surrounded by creation's beauty, we breathe deep and know it is right here our healing comes from.  Our faith is in God, the Creator, and the Spirit that moves through this cosmos, us and others.  We are exactly where we need to be."
Laurie Ann had a love of writing that led her to study print journalism at Loyalist College.  After graduation she had 15 years of experience as a journalist and in small business and newspaper management.  She started and managed Kirby Communications Group which specialised in information services including the publication of two newspapers.  Laurie Ann was involved in writing, designing, marketing, and hosting seminars and conferences.  She was the founder of the Quinte Writer Support Guild and was an active volunteer in promoting writing in schools.
In 1993 Laurie Ann experienced a call to ministry and as part of her discernment process, registered as a student at the Centre for Christian Studies, where she studied until 1999.  She was accepted as a candidate for ministry along the way. After graduation in 2000 she was commissioned to Diaconal Ministry Bay of Quinte Conference.  She later completed a Bachelor of Theology degree in Diaconal Ministry at St. Stephen's College (in 2006).
Laurie Ann was in ministry in the Wellburn and Chalk River Pastoral Charges but probably her most meaningful work was connected to spirituality and the arts.  She and her partner Richard Baynes collaborated on exhibitions of his art together with her writing.  She also led art and spirituality workshops and promoted art in liturgy.  Her work in after school art programs for children and as Chaplain to the Legion gave her satisfaction. Unfortunately, she experienced struggles in congregational ministry, a role that didn't match her particular gifts.
The wilderness property at Carlow she and Richard owned, inspired a vision for a centre for art and spirituality that would help people connect to the natural world, live more simply, and promote creation based spirituality.  "It is obvious we are caretakers of a healing place that is just too wonderful for us to keep to ourselves […] In this world of unsettled times, it is a blessing to walk the earth so natural and untouched, to breathe the air so sweet you can almost taste it, and to hear nature between the silences."
Laurie Ann died at the age of 58 on March 28th, 2015 at the North Hastings Hospice in Bancroft, leaving behind her partner and two adult children.  The Bay of Quinte Conference Report Book shared these words about Laurie Ann, "She is remembered as a gifted Diaconal Minister and confident military chaplain. …  She will be fondly remembered among the people of the Bancroft Carlow Pastoral Charge where she attended and where she began her life.
---
This biography was prepared by Lori Stewart in June 2017.