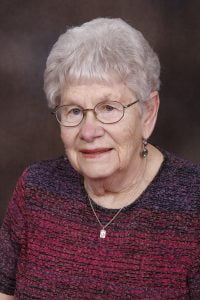 ELIZABETH (BETTY ANN) CALDWELL was born April 9, 1931.  Betty Ann was born in Dauphin, MB and raised in Gilbert Plains. She remembered her childhood as a wondrous time, filled with family, community, church, education, sports and music. Throughout her life, summers were spent at the family place at Clear Lake in Riding Mountain National Park, where she worked at the golf course clubhouse in her teenage years.
Betty Ann graduated with a Bachelor of Arts and Education (1953) before returning to Gilbert Plains to teach science at Brickburn High School, and then in Souris High School for two years. While in university she was chosen by Crossroads Africa to participate in a summer work project in Nigeria. Following her tenure in Souris, Betty Ann furthered her studies at the United Church Training School in Toronto. Upon her return to Manitoba, Betty Ann gained employment as a guidance counsellor with the Department of Indian Affairs in Portage la Prairie and Winnipeg. While furthering her education later in life she was awarded a gold medal for highest standing in education (1966). Upon post graduate work in library sciences, she ended her education career as a teacher librarian at R.B. Russell Vocational School in Winnipeg.
Betty Ann was an adventurer. She especially loved hiking, biking, canoeing, and cross-country, downhill and telemark skiing. She travelled the world and thrilled in trips to many remote reaches of Canada. She was a charter member of the Grey Hares and enjoyed their activities. Betty Ann loved books, learning and was an accomplished musician and clown. Her love of the outdoors was rooted in her summers spent at Clear Lake where she was an integral part of the community since the 1930s, and she continued to venture to the family cabins until last year. She also made lasting contributions to her community through teaching, photography, music, speaking and volunteer work, touching many lives.
Surrounded with love of family and friends, Betty Ann Caldwell died on July 22, 2015 at Grace Hospital in Winnipeg.
This biography was taken from Betty's obituary.