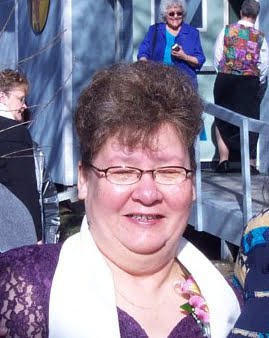 Adelyne was commissioned on June 19, 2005.
Program of Formation
Adelyne attended the Dr Jessie Saulteaux Centre for 5 1⁄2 years. She was settled at the Family Wellness Centre, located south of Hobbema, Alberta.
What called you to Diaconal Ministry?
Adelyne is able to use her training in counselling and pastoral care to help those who are struggling with mental health issues. Her work includes a special focus on suicide prevention. Her call, she believes, is to bring hope to those who feel hopeless and of little worth to society. Adelyne is aided in her ministry by a support system that offers personal healing so that she is able to continue with her task.
Describe some of your experiences of ministry.
Adelyne's focus of ministry is particularly in the area of pastoral care and education. Her work is in building self-esteem and educating people with the good news that suicide is 100% preventable and that they are not alone in their struggle – that life is worth living. She teaches them the tools to use so that they may reach out and seek the help they need.
12 December 2005
Make a profile!
We welcome profiles of anyone engaged in diaconal ministry.  It is not limited to members of DUCC (although you are encouraged to considering joining!)
Profiles will be edited for clarity.  By submitting a profile and picture you are giving permission for posting to this website.