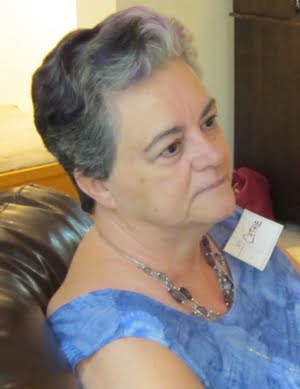 Cathie Clement
Formation
My growth into diaconal ministry has been facilitated by learning through doing and participating in the community of others practicing diaconal ministries
Describe some of your experiences of ministry.
I work in a diaconal style and have for as long as I can remember. I have spent most of my life supporting friends, family, church folk, co-workers, creating opportunities to work with others, encouraging new learning and possibilities for myself and others, looking at issues from many viewpoints and encouraging others to do the same.
For more than 25 years I worked to ensure that all were welcome and able to participate in the church. An early concern was encouraging committees and groups to include children in all facets of church life, including making changes so that Sunday worship was a welcoming place for children. I participated for many years in Celebration Worship which was a group where everyone provided leadership for worship and education: all ages led and learned together.
Working with women across Manitoba on the Committee for Women's Concerns to further women's visibility throughout the church, participating in many events around the Ecumenical Decade to overcome violence against women, working on the RoadShow Resource kit during that time – all have been part of what I believe to be the important work of including all.
I spent over ten years at the Centre for Christian Studies in a ministry of administration and hospitality.
Currently, at the Women's Enterprise Centre in Winnipeg, I am providing a ministry of administrative support and encouragement to staff and clients, many of whom are just starting up new businesses.
How I explain Diaconal Ministry to others …
For me, diaconal ministry is about empowering others – working with – providing support (pastoral care) and working with others to realize compassion and justice in this world. What gives you the most satisfaction, reward, sense of fulfilment from the ministry you do?
What gives me the most satisfaction and sense of fulfilment is connecting with folk as they pursue their journey, whatever that might be.
9 February 2010
Make a profile!
We welcome profiles of anyone engaged in diaconal ministry.  It is not limited to members of DUCC (although you are encouraged to considering joining!)
Profiles will be edited for clarity.  By submitting a profile and picture you are giving permission for posting to this website.