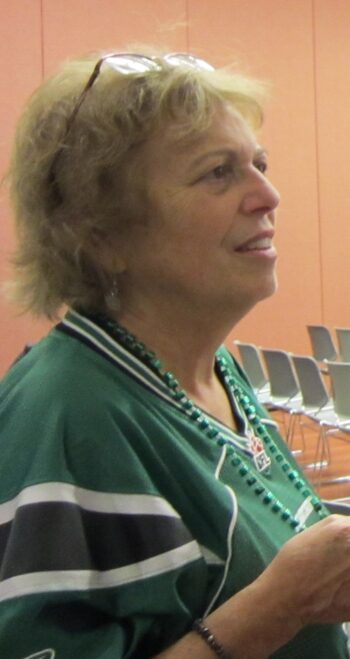 Commissioned in 2000 with ANW Conference at McDougall United Church, Edmonton
Program of Formation
CCS – 5 year Regional program which combined with the residential program after 2 years. – – – – –
What called you to Diaconal Ministry?
My mother had wanted to be a deaconess but Toronto was too far from Saskatchewan. She then attended St. Andrew's College in Saskatoon near her home farm. But met her father to be who was taking theology and married after he was ordained and thus only completed her BA.
I started working in Sunday school as a young woman and was excited about new curriculum.
Found education and social justice interesting.
Helen Stover Scott was a Conference staff person who saw my gifts and encouraged me. Helen was ordained but worked in a diaconal way.
Betty Marlin followed as Conference staff person. She talked about diaconal ministry and I felt more and more this was the path for me.
Knew diaconal people and it seemed like a fit for me.
Describe some of your experiences of ministry.
Settled to Rockyford AB, a single point ministry; population 400, half-time then two- thirds time. Ministry tasks: Joint activities with the Catholic community; regular connection with the Seniors' Centre for lunch and community relationships (realized I was the community chaplain).
Worked through own grief of the sudden loss of my spouse and then special family members shortly after by reading lots on grief– had a wonderful psychologist who helped me through.
 From the experience of grieving learned it is not goodbye but it is gratitude. That is one of the key things about a healthy companionship in pastoral care with those grieving.
Children and youth ministry at Deer Park shared with CCS student position – 2 years.  There are struggles for people in teaming positions because one of the ministers (usually the diaconal minister) is often not seen in worship when doing the expected tasks of their position. Then they are not known and heard. While in a single charge you are the minister and then seen and known.
Went to St David's in supply ministry 3⁄4 time team with another minister who was intentional interim and ordained and had a great time. He was open to gifts -encouraging and affirming of gifts – delightful teaming. The emphasis with the whole staff team was what is best for the congregation to learn how teaming works – being open and building trust. It continued with another ordained minister for another year. Total time was just under 3 years.
Working half time at Springbank United Church west of Calgary – sole position teaming with congregation – see mountains on the drive there – worship, some admin and pastoral care
A highlight is KAIROS Calgary Affordable Housing project with Calgary Homelessness Foundation to end homelessness in 10 years. The Acadia Project in southeast Calgary is Calgary Homeless Foundation purchased low income apartments to provide housing for the homeless -mainly for families. Offer support and subsidies and as one's income increases the rent increases. Kairos Calgary Affordable Housing includes 10 different denominations with 130 congregations working on cutting back mortgage, raising 1.5 mil to lower the mortgage– exciting piece of work and work as a community – social justice minded people.

A member of the Calgary Presbytery Education and Students Working Unit. presently co-chair of the Central Council of CCS.
How I explain Diaconal Ministry to others …
The fullness of training is different but equal to ordained but training has more emphasis around leadership and group dynamics – both have to take 11 academics, more around development and leadership but also are trained in word and sacrament. Diaconal Ministers didn't used to be trained as much in word and sacrament and sadly people still think that way
A diaconal minister talks about working oneself out of a job because empower others
When my dad was in one pastoral charge my parents found that the people were fully able to do their own study group and took turns leading, lay leadership was so strong and they encouraged others. He realised that he was then more of a resource person and facilitator.
What gives you the most satisfaction, reward, sense of fulfilment from the ministry you do?
In worship that people had sense of being inspired and challenged
resources around rituals people appreciate different ways of prayer, lighting candles
 different ways to move into relationship with loving spirit in and around
facilitating people to realize that each person has gifts and we often don't know about it
in this together – community – in worship, program situation
With the Leadership Team (rather than Church Council or Church Board)– offered Joyce Rupp meditation from Open the Door – profound how people got into their own meditation and talked to each other after that as an opening.
Mentoring diaconal students appreciated now the third time– had Lorraine Hartry during her training. Happy about field based diaconal ministry program and how exciting it is – excellent and accessible for her and so many others – couldn't uproot whole family – makes training available to so many.
28 January 2011
Make a profile!
We welcome profiles of anyone engaged in diaconal ministry.  It is not limited to members of DUCC (although you are encouraged to considering joining!)
Profiles will be edited for clarity.  By submitting a profile and picture you are giving permission for posting to this website.