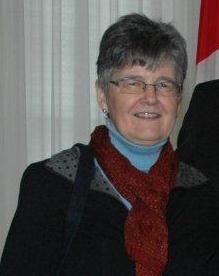 Commissioned 1978, Maritime Conference held in Sackville, NB
Program of Formation 
I attended the Centre for Christian Studies in Toronto as a fulltime student in a two-year program. During those two years my field placements were at the North Toronto Ecumenical Church School and at Eglinton United Church working with children and youth. The 'Core' learning component each year was a place for community- building and a focus on topics determined by the community. My academics were completed at Emmanuel College and St. Andrew's College in Saskatoon.
What called you to Diaconal Ministry? 
I always felt called to be part of the church and participate and offer leadership in the many children's groups and youth groups. Programs at Tatamagouche Centre added to an understanding of myself and my faith, but it was not until I was in the midst of my first year at CCS that I began the process to become a candidate for diaconal ministry. I guess the Centre helped me to bring things together and to be open to a more specific call to diaconal ministry.
Describe some of your experiences of ministry.
For thirty years I worked in team ministry settings in urban churches in Alberta. My primary role was always with children, youth and adults in the areas of education, outreach and pastoral care. Specific ministries were with church school, youth groups, Bible study, family activities, women`s groups and retreats, congregational life – as well as worship and pastoral care. A significant outreach experience was working with other Christian churches in our neighbourhood to provide an overnight shelter for the homeless. This venture had its challenges within our neighbourhood and city so I had a close-up experience in city politics. As a follow-up the congregations together began a monthly drop-in that offered supper and a sense of belonging. After my retirement from diaconal ministry within the church I now work part-time as a recreation coordinator within an assisted living facility that is operated by a United Church here in Edmonton. This too is my diaconal ministry.
How I explain Diaconal Ministry to others … 
I speak of Diaconal Ministry as a ministry of education, pastoral care and outreach with the addition that the educational preparation is experiential in its approach. There is an emphasis on the action/reflection model of education.
What gives you the most satisfaction, reward, sense of fulfilment from the ministry you do? 
The satisfaction of my diaconal ministry has always been with my involvement in the community life of the congregation and finding ways to encourage and live out our many gifts, creativity and passions.
8 February 2011
Make a profile!
We welcome profiles of anyone engaged in diaconal ministry.  It is not limited to members of DUCC (although you are encouraged to considering joining!)
Profiles will be edited for clarity.  By submitting a profile and picture you are giving permission for posting to this website.