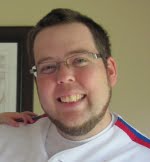 Year of Commissioning      Hopefully 2015
Program of Formation     
Four year program at CCS
What called you to diaconal ministry? 
I was called to diaconal ministry through a desire to work in education.  After not being admitted to Teachers' College I discerned that I was meant to be teaching in a different way.  I was drawn to diaconal ministry because of its action/reflection style of learning.  I was also drawn by the emphasis on self-learning.  After completing the Social Ministry Year at CCS I discovered that I have a deep-rooted call for social justice, and a call to live out that justice with everyone I meet.
Describe some of your experiences of ministry.  
I am currently in solo ministry as a student minister at a 3-point rural pastoral charge in Caledon Ontario. I am also currently taking a Clinical Pastoral Education course offered through The Scarborough Hospital.  I see ministry at work in how the community works together, how they care for each other, and how they live out their spirituality in their everyday lives.  There is ministry at work every day in the hospital, and it is not just chaplain to patient.  Many times the patients teach and minister to the chaplains.
How I explain Diaconal Ministry to others…
Diaconal Ministry is a ministry of service, through education, making sure that everything we do is done pastorally with care.  It is a ministry that can have a strong focus on social justice; a ministry that embraces and encourages inclusion; a ministry that is modeled after the ministry of Jesus.
What gives you the most satisfaction, reward, sense of fulfillment from the ministry you do?  
I feel that we are honoured to be ministers.  It is an honour to be allowed into someone's home, and to share sacred space in their living room as you celebrate communion together.  It is an honor to stand  with a couple as they profess their love for one another in a marriage ceremony.  It is an honor when a family  that you have not met before invites you into the hospital room where their father is dying and we are accepted into that sacred love that the family has for their dying father.  And it is just as much of an honor to be looked upon to help lead families and friends through the grieving process as we lead a funeral or memorial service.  I feel it is s blessing to be in ministry and to be able to share the sacredness of life and the sacredness of the spirit with others.
October 2012
Make a profile!
We welcome profiles of anyone engaged in diaconal ministry.  It is not limited to members of DUCC (although you are encouraged to considering joining!)
Profiles will be edited for clarity.  By submitting a profile and picture you are giving permission for posting to this website.