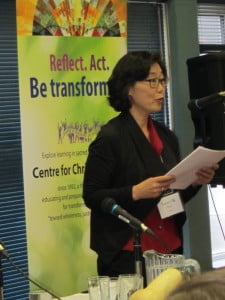 Commissioning  
I was commissioned June 3, 2000 at MacDougall United Church in Edmonton Alberta.
Program of Formation  
I studied in the 5-year Regional Program at the Centre for Christian Studies both in Toronto and Winnipeg.  I also took some of my academic courses through St. Stephen's College and some courses were transferred from Han Shin University in Korea, where I graduated with a Bachelor of Arts in Christian Education.
What called you to diaconal ministry?  
When I was working for the Women's Hotline in South Korea an educator and counsellor, I was invited to join the group of women in diaconal ministry from PROK (The Presbyterian Church in the Republic of Korea) who were coming to Alberta on a ten-day exchange  program offered through St. Stephen's College in 1991.
The trip opened my whole being to experience life and faith in the United Church through diaconal leadership.  We were extended warm greetings, we were strangers, but welcomed; we found encouragement and empowerment to be part of the community of faith.  We were given wonderful hospitality, were well cared for and had a special experience in which to discover and learn about diaconal ministry.
A year later, I was called to work at the Korean church in Calgary. That is when I immigrated to Canada. The exchange program helped to open the door to my life and work in the United Church of Canada. Through diaconal friends, programs and the experiences of life, my home in Canada is  "Like a healing stream" (More Voices, #144)  Like a mighty sea reaching far horizons, Spirit water with love both deep and wide, God is working in our hearts to shape a new tomorrow: God will always challenge and provide! Like a mighty sea, like a river strong, like a gentle rain, like a healing stream." 
Describe some of your experiences of ministry.   
"He has set the time right for everything. He has given us a desire to know the future, but never gives us the satisfaction of fully understanding what he does.  Ecclesiastes 3:11.  Over the years in my ministry, God provides for my needs to be met in both the faith community and in myself.
I served the Korean United Church in Calgary for six years during my ministry training.  I had much to learn and understand about who I was and what it meant to be accepted, and how to serve God in two cultures and languages.
I was settled in the Pigeon Lake/Millet Pastoral Charge. What an adventure that was!  I was fresh out of school and thankful to be travelling on this new road of faith. I was introduced to different food, drink  – and formal diaconal ministry leadership and gifts. I had so much fun, and joyful times on the road:  Seeing seasons changing, walking on a lakeshore, having a great time with youth at the corn maze field, cooking Korean dishes for people in the community, eating all kinds of cookies at the bible studies with hot tea.  The best fun was travelling with the choir to all three places on special occasions. I felt known by God and I felt that God was there in our relationship. It was a caring and loving community and my congregation and I grew to know and love each other in many ways. I was there for six years before I felt a call to move on.
I was also in Drayton Valley for six years. There, I came to learn other ways of praising God and ministering with compassion to a different group of people whose daily lives were lived at a much faster pace.  They too were loving and supportive and open to answering God's call to serve others in different ways. I came to learn their ways of being, and grew from that.  This congregation was built on great leadership, openness and hard work. I have been so blessed, loved and supported.  As I look back I realize that the congregation and I had opened the church gate wider and deeper to acceptance and truth.  We introduced  interfaith dialogue, new music, and family ministry. The seniors loved to knit prayer shawls….I can smile at God and say, "Thank you God, you are our helper. You are with us all the time."
Now I am at Kirk United Church in Edmonton.  I am very excited to unfold the gifts that God provides for us as we celebrate our life and faith.  I trust that the congregation and I will find God's hidden treasures for the community at this time of transition and transformation.
I am sometimes too busy serving the wider community. I have been involved in the Interfaith-Interchurch Committee in Edmonton Presbytery. I was chair of the Ethnic Ministry Committee of Conference, and a member of the PCPMM of General Council.  I also support and help the Korean community. I have great support and fun with very close study buddies and friends in spiritual matters. We share our joys, our laughter and our sorrows together.  They are a source of life for me.  We empower and love one another.
How I explain diaconal ministry to others   
I would like to introduce the hymn "Mother and God", Voices United #280. It well describes the whole image of the theology of diaconal ministry: "Mother and God, to you we sing; wide is your womb, warm is your wing. In you we live, move and are fed sweet, flowing milk, life-giving bread. Mother and God, to you we bring all broken hearts, all broken wings."
There is warmth, movement, feeding and healing life in that image.  I love mother images about giving life. They are a source for growth and healing. What a powerful, passionate image is that of a woman who has been searching everywhere to find a lost coin (something that no one cares about), and not giving up.  Learning the importance of reflection and the learning spiral are other gifts of diaconal ministry.  Another gift is offered through community where friendships are made and continue.  We can sing, cry, pray, break bread and drink deep, being water for one another through the telling of our stories.
What gives you the most satisfaction, reward, sense of fulfillment from the ministry you do?  
My satisfaction, reward, sense of fulfillment comes from learning more deeply who God is and who I am through my ministry.  We are the power to be, to listen and cry with others who come to us. When I can see that I am helpful and supportive to them so that they can find another way or a "light at the end of the tunnel," I feel fulfilled.  If I can ask the questions to help them define where they can see God, I know I am doing what I am meant to do.  Fellowship is another fulfillment of my heart. People love to talk, as I do too, at the table or on a walk or at home. Sacramental celebrations: holding a baby and breaking the bread, standing before a couple at a wedding, and supporting a family at funerals; these things give me a full heart.  I get the most satisfaction when I see someone who understands faith and goes on to live beyond the limits.  I am satisfied when someone says with a smile on their face, "Good worship" after the service. Or when I am free on Monday morning when I am free to do what I want to do.  I get the most joy from my son who respects me as a person in ministry: what I do and who I am.
November 2012
Make a profile!
We welcome profiles of anyone engaged in diaconal ministry.  It is not limited to members of DUCC (although you are encouraged to considering joining!)
Profiles will be edited for clarity.  By submitting a profile and picture you are giving permission for posting to this website.