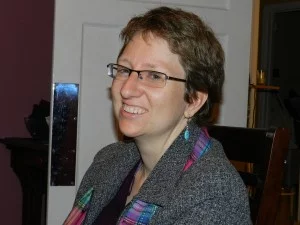 Commissioned to Diaconal Ministry  in 2009, at Sherwood Park, Alberta and Northwest Conference
Program of Formation
The four year program at CCS. Field placements included a Lutheran-United Shared Ministry in Spiritwood, Sask and a Women's Shelter in Prince Albert.  The Global Exposure component was participation in a delegation with a Christian Peacemaker Team to Israel/Palestine.
What called you to Diaconal Ministry?
I had a sense of call to ministry but was uncertain of direction. At an annual meeting of my home congregation I was looking for someone to lead the youth group and the Sunday School, since another leader and I were both moving. A young woman who was recently confirmed said that she couldn't help with these things because she had too many questions and wasn't sure of her own faith.  I realized how important it is to engage adults in on-going learning and growth in faith.
Describe some of your experiences of ministry.
My experience has been primarily congregational. The first congregation I served was in Kapuskasing ON where I was involved in helping the congregation begin a shared ministry with the Presbyterian congregation.  I currently serve three congregations in rural Manitoba: Strathclair, Newdale and Cardale.
How I explain Diaconal Ministry to others….
Diaconal ministry is about making connections; it is a relational form of ministry involving hospitality and the removing of barriers.  It also helps people make connections between their faith and life in the world. Diaconal ministry is very hands-on in style and encourages faith to be embodied in all aspects of life. Diaconal ministers are trained in facilitation and use a variety of learning styles to help people engage in their faith.
What gives you the most satisfaction, reward, sense of fulfillment from the ministry you do?
I am passionate about seeing people and congregations shift their thinking, attitudes and behavior and then continue to open themselves to a deeper sense of what God is calling them to do and to be. I also love being creative with scripture and helping people to hear the stories differently than they may have before. When these experiences lead to "aha" moments, I love seeing the wonder on someone's face.
March 2013
Make a profile!
We welcome profiles of anyone engaged in diaconal ministry.  It is not limited to members of DUCC (although you are encouraged to considering joining!)
Profiles will be edited for clarity.  By submitting a profile and picture you are giving permission for posting to this website.