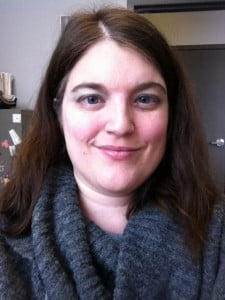 Commissioning   2000, at Portage la Prairie in Conference of Manitoba Northwestern Ontario
Program of Formation  
Five-year program at the Centre for Christian Studies, which I began when CCS was in Toronto, and completed after the move to Winnipeg.   I also completed the Master in Theological Studies in Diaconal Ministry degree through a joint program with St. Stephen's College in Edmonton and St. Andrew's College in Saskatoon.  The title of my thesis was 'Generation Theory and its Application in the Canadian Church Context.'  My interest in the subject came from a Generation X consultation held in BC Conference in the early 1990's.  It was largely based on archetypal work that Neil Howe and Bill Strauss were doing.

What called you to diaconal ministry?
I have always had a passion for ministry with youth and young adults. Educational ministry has always been at the forefront of what I do whether it be preaching, leading worship, organizing a youth event, or planning the agenda for a meeting.  Through my involvement as a young person in Conference youth events  I met diaconal ministers who were formational in my understanding of this stream of ministry – a few of whom were Anne Manikel, Anne Duncan, Ted Dodd, Ken Delisle, and Karen Tjaden.  I had been feeling a pull toward ministry in the United Church; when I met these folks and saw how they were in ministry I thought to myself: 'That's what I want to do. That's how I want to serve.'
Describe some of your experiences of ministry.
I was in congregational ministry both as a sole paid-accountable minister in Alberta and in teaming with another diaconal minister in Winnipeg.  I also ministered with a congregation while their ministry staff person was on a year-long leave.  While I was studying at CCS I spent one summer as an intern for the International Seafarers Centre in the port of Newark, NJ and New York City.  I also did a field placement with Klinic Community Health Service, primarily working with the crisis line.  For the past five years I have been loving my ministry as Conference Minister for Young Adult and Youth Ministry in Manitoba and Northwest Ontario Conference.  Recently I had Camping and Communications added to my job description.  This is a ministry to which I really called – and I feel so very fortunate to be able to offer ministry in this way.  I hope too that it might encourage some of our young adults who are considering entering into the discernment process to consider diaconal ministry as a possible path for them.
How I explain Diaconal Ministry to others…..
I usually talk about style. The training between the various streams is very similar but as a diaconal minister I bring a certain perspective and style to the way I offer ministry.   For me, leadership in ministry is about encouraging people to discover and celebrate their own gifts that they can offer to the community.  I also bring a perspective of education and social justice to my work and ministry.  That may not be unique to diaconal ministry but it is an integral part of our training program, and is certainly always a focus that I hold before me.  I am inspired by the words of St. Teresa of Avila  – which were adapted into the hymn 'Christ has no body now but yours.' (More Voices #171)  We are called to embody a Christ of welcome and compassion.  This is something I attempt to bring to all of the ministry I offer.
What gives you the most satisfaction, reward, sense of fulfillment from the ministry you do?
One response would be:  When I hear from the youth and the young adults what the retreats and other gatherings mean to them.  I have seen life-long friendships form, relationships that are especially beneficial for youth who, because of their liberal beliefs and interpretations, may feel isolated in their home communities. It is also rewarding to see these young people going into the world, not necessarily in paid-accountable ministry, but  bringing a sense of faith and justice to the work they will do in teaching, healing, law, advocacy, child care, parenting, non-profit work, environmental protection, and on and on.  They make a difference in the world and I'd like to think that part of that is because of the grounding and place for faith exploration we are able to offer through our Conference youth programming.
March 2013
Make a profile!
We welcome profiles of anyone engaged in diaconal ministry.  It is not limited to members of DUCC (although you are encouraged to considering joining!)
Profiles will be edited for clarity.  By submitting a profile and picture you are giving permission for posting to this website.