Calling all 'DUCCies'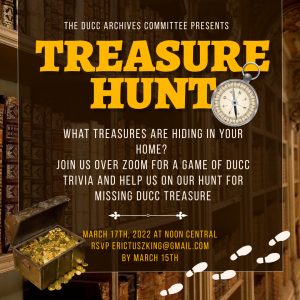 to attend this fun and informative Zoom event to help uncover the DUCC treasures hiding in our homes and in our collective memory.  

When: March 17, 2022  at 10 am PT, 11 am MT, 12 noon CT, 1 pm ET, 2 pm AT
The Zoom event will be an hour and a half.
To register contact Eric Tusz-King, by March 15 at  [email protected].